Don't Put Your Children in the Divorce Crossfire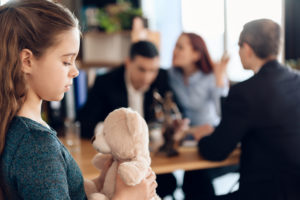 The well-being of a child during a divorce should be prioritized and protected. Quite often, parents will use the child for leverage, whether intentional or not, which only creates an uneasy situation for all parties involved. Here at Sarah Carmody Law, we understand that divorce is difficult and that emotions can sometimes interrupt rational thinking. It is important to consider your child's feelings throughout this process to spare any negative impact as much as possible. Olathe Kansas divorce attorneys would advise that you take proactive steps to protect your child from the divorce crossfire and maintain as much normalcy as possible for them.
Protecting Your Child
There are many ways parents who choose to divorce can ensure that their child is not put in the middle of the situation. An overall approach is to consider their feelings, but the following ways can help continue a healthy relationship:
-Don't discuss details of the divorce in their presence
-Refrain from arguing in front of them
-Assure them that they are loved by both parents
-Don't speak badly about the other parent to the child
-Gently explain that there will be a change coming that will impact how they spend time with you.
Divorce Proceedings
If you are considering divorce, Olathe Kansas divorce attorneys can initiate the process. The petition that will have to be submitted to the court will need to state the grounds for divorce and provide evidence to support that claim. It is best to hire an attorney so that all steps are followed properly. A lawyer will also offer guidance as to how to approach the divorce when children are involved and how to include child custody and child support in the petition.
At Sarah Carmody Law, our professionals are experienced in helping clients with their divorce cases when there are children involved. Let us help you make this transition as seamless as possible for you and your child. Contact us at 913-257-3110 to schedule an appointment.